May 5, 2023
Chitral City Profile by Directory Pakistan.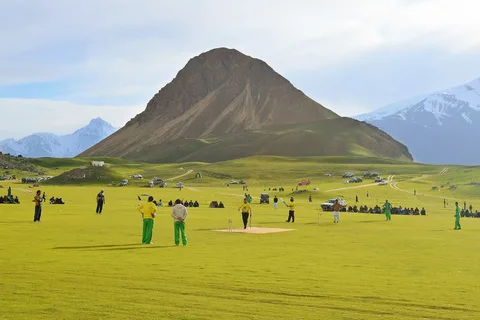 City Profiling of Chitral:
Introuction :
District Chitral is the north-most district of Pakistan, situated just across the border fro m Afghanistan. It is situated in between the succession range of Koh Hindukush. It is one of the largest district of NWFP provinces, which consist of two tehsils of Chitral and Mastuj. It is bounded on the north side with the Wakhan Patti of Afghanistan through Dorah pass, which is a link between Pakistan and Tajikistan, on the north-west by the Hindukush mountains, on the east side with swat, on the north-east side with Gilgit through the Shandoor pass, on the west side with the Afghanistan province Noristan through the Kalash valley, on the south side with the district upper Dir through the lowari pass, on the south-west side to the Afghan province Kunar through the Arrundu.
From ancient times, Chitral was an important point on the trade routes from northern Afghanistan (ancient Bactria) and the Tarim Basin to the plains of Gandhara (in northern Pakistan), and the region near Jalalabad, in eastern Afghanistan.The people belong to over a dozen different cultures and speak more then 14 languages. As a result of its unique location and historical links with the Central Asia and Europe, the material and non-material culture of Chitral bears traces of Greeks, Iranians, Mongolian, Tatar and Turk influences. It remained an independent state for centuries with its own culture and language. In the late nineteenth century it became part of British India.
Climate
Chitral has a warm-summer humid continental climate closely bordering on a dry-summer continental climate with warm, dry summers and very cold winters with heavy snowfall occurring routinely in Chitral Valley. Cold spells that have swept across Chitral can be deadly as locals have died of the extreme numbing temperatures in the past. Chitral is known for its snowfall and deadly avalanches. The road that goes towards Chitral is very dangerous as it's one of the most narrow roads in the world, and it is situated in the world's largest mountain range. It is designed to be a one-lane road but it is used as a two-lane road. The route is very unstable, without any safety, and faces extreme glaciers where temperatures can plummet to −30 °C (−22 °F).
Climate data for Chitral (1999-2019)
Month
Jan
Feb
Mar
Apr
May
Jun
Jul
Aug
Sep
Oct
Nov
Dec
Year
Average high °C (°F)

−9.2




(15.4)

−7.2




(19.0)

−2.1




(28.2)

2.6




(36.7)

8.9




(48.0)

17.0




(62.6)

22.2




(72.0)

21.6




(70.9)

17.2




(63.0)

8.3




(46.9)

−2.3




(27.9)

−8.0




(17.6)

5.8




(42.3)

Daily mean °C (°F)

−12.5




(9.5)

−10.3




(13.5)

−6.1




(21.0)

−1.4




(29.5)

4.5




(40.1)

12.1




(53.8)

17.0




(62.6)

16.2




(61.2)

11.9




(53.4)

2.9




(37.2)

−6.5




(20.3)

−11.4




(11.5)

1.4




(34.5)

Average low °C (°F)

−15.8




(3.6)

−13.6




(7.5)

−10.3




(13.5)

−6.0




(21.2)

−1.0




(30.2)

5.5




(41.9)

10.5




(50.9)

10.3




(50.5)

5.8




(42.4)

−3.3




(26.1)

−11.1




(12.0)

−14.9




(5.2)

−3.7




(25.4)

Average precipitation mm (inches)

108




(4.3)

153




(6.0)

195




(7.7)

160




(6.3)

104




(4.1)

61




(2.4)

54




(2.1)

56




(2.2)

68




(2.7)

89




(3.5)

80




(3.1)

81




(3.2)

1,209




(47.6)
The district of Chitral is divided into twenty-four union councils and two tehsils
National Assembly
This district is represented by one elected MNA (Member of National Assembly) in Pakistan National Assembly. Its constituency is NA-32.
| | | |
| --- | --- | --- |
| Member of National Assembly | Party Affiliation | Year |
| Abdul Akbar Khan | Muttahida Majlis-e-Amal | 2002 |
| Shahzada Mohiuddin | Pakistan Muslim League | 2008 |
| Shahzada Iftikhar Uddin | All Pakistan Muslim League | 2013 |
Provincial Assembly
The district is represented by two elected MPAs in the provincial assembly who represent the following constituencies:
PK-89 (Chitral-I)

PK-90 (Chitral-II)
Culture and Heritage
The unique culture of Chitral, developed over many millennia with more than a dozen ethnic groups speaking as many languages, is closely linked to that of Central Asia and China instead of South Asia, according to a study conducted by International Union for Conservation of Nature (IUCN).
It says that arts and crafts, traditional costumes, food and beverages, local games, music, dance, folksongs and legendary sites form the main components of the cultural heritage of Chitral. The study also includes the historic military sites and indigenous tribes (Kalash) in the ingredients of cultural heritage.
"Chitral's artisans manufacture a wide range of elegant and delicately crafted jewellery, woodwork and embroidery, woven and knitted textiles," the study says, adding that clay, wood, stone, bone, animal skin and copper are the material most commonly used.
The woolen fabric of Chitral, locally called shu , and walnut-wood furniture are popular in handicraft markets throughout the country.
The study adds that traditional clothes, including that of Kalash people, are made from wool and silk and decorated with beads and shells.Traditional cap ( khapol ) and gown ( chugha ) are popular while the typical Chitrali shoes ( khon ) resemble the long riding boots.
The area's vast culinary repertoire of foods and beverages is unique in terms of both flavour and presentation.Regarding the local games and sports, the study says that polo and falconry are the most popular recreational pursuits in Chitral while people also hunt for sport.
The study places music and dance at the heart of Chitrali culture. Chitral's rich and varied musical tradition is part of the fabric of everyday life while Chitrali sitar is famous throughout the world and the traditional dances, such as dani and sauz are part of the folk heritage of Central Asia.The folk poets of Chitral sing war songs as well as love ballades, the study says, adding that epics are popular among the Kalash.
"With its origin lost in the mists of antiquity, the ancient tribe of Kalash is a unique cultural resource," says the study, adding that Chilm Jusht, Uchhal, Chitirmas are some of the main festivals of the tribe that attract a large number of tourists to the three segregated valleys of Bumburate, Birir and Rumbur in Chitral.The study says that Chitrl is home to several preserved forts, fortresses and towers from a more recent era and the ruins of forts dating back to the fourth and fifty centuries BC are also found here.Traditional Chitrali buildings are embellished with wood carvings and have been designed keeping in view the climatic and local environmental conditions of the area.
Language:
The main language spoken in the district of Chitral is Khowar, whereas the people of Kalash speak kalasha which is also known as Kalasha-mondr. Urdu is widely understood by everyone in the region and so is Pashto, whereas the latter is spoken a lot as well.
Religion:
The majority of the people in the district Chitral are Sunni-Muslims where as there are a lot of Shias as well. However the People of kalash and various tribes of it are thought to believe in various gods and believe in very old rituals and religions.
Chitral Airport
 Chitral Airport is a small domestic airport situated 2 NM (3.7 km) north of the city centre of Chitral, in the Khyber-Pakhtunkhwa province of Pakistan.
Peoples and Tribes:
TRIBES OF CHITRAL
The population of Chitral is comprised of varying ancestry but this difference is forgotten in the unity and affection that binds them to each other. The various tribes of Chitral are as follows:
 Khow
These account for 92% of the population of Chitral and are spread in many villages. Original khow are of Aryan ancestry. It is believed that they came from central Asia, Afghanistan and Kashmir. This dominant ethnic group is a heterogeneous tribe with an age-old class system. Basically, they are happy and contented people fond of music and hunting. Women observe pardah and are expert in making handicrafts.
 Kalash
In the tenth and eleventh century, the Kalash ruled over Lower Chitral, up till Hurbuns. In 1220, the tribe of Khow defeated Bal Singh, the Kalash ruler, and pushed them to the south western valleys of Chitral. Living with the Khow, they gradually embraced Islam. But those in the valleys of Bomborate, Birir and Rumbur clung to their own religion and culture.
Until the 1970s, not much was known about this tribe that resided in the south west of Chitral, in the three valleys of Bomborate, Birir and Rumbur. This pagan tribe of 3,000 people follows its own distinct culture and traditions. Their origin is still not known. Either their original home is Syria or Tsiyam, the old name of Thailand. From here, they migrated to Afghanistan and then to Pakistan. The Kalash are illiterate but clever people, and excel as masons and craftsmen. They have a friendly temperament and are fond of music and dancing. Their native language is Kalasha or Kalashamun.
Shubgali
These tribes live in Gabore in the north, Langoor Butt in the south and the valleys of Bumboret and Ambore in the south west. In the last decade of the nineteenth century, they came from Noristan (Afghanistan), their homeland, due to Ameer Abdur Rehman Khan's forced conversions to Islam. In 1926, they embraced Islam. In their families, women work while men love gossip and sports. Their favorite pastime is to play with snow in winters. There was a time when they were known for their skill in arrow shooting.
Wakhi
These can be classified into three groups.
*Wakhak, who migrated from Wakhan, Afghanistan
  *Sri Qali, who came from Tajikistan
 *Craimanar, who came from San Kiang, China
Together, they are all known as Wakhi and their language too is also called Wakhi. Khowar is also spoken by some of them. As for their residence in Chitral, some writers say that they live in the upper areas of Chitral that border Afghanistan while others have placed them in Broghail Valley in the east of Chitral. Their living depends on agriculture and livestock.
Madaklashti / Tajik
These came from Tajikistan and Badakhshan in 1700 AD and settled in Madaklasht village of Shishi Kuh valley. Their ancestor made weapons from iron and the ruler of Chitral invited them for this purpose. The speak Khowar and Persian and follow the customs and habits of the Khow people. However, some of their culture is still preserved and Daree, their language, is still spoken in Madaklasht. Thus, they have preserved their individuality while mixing with the Khow society.
Gujars
This is a nomad tribe that came from Dir, Swat, Hazara, Kohistan and Afghanistan during Katur rule and settled in the southern valleys of Chitral. Their population is concentrated in Shishi Koh and also in the valleys of Arundu (or Arnadu) or Domail. They are herdsmen distinguished by their migratory temperament; in spring, they move from the south to the north eastern valleys (the upper areas) in search of pastures while in winter, they descend to warmer areas at lower heights. And because they are nomads, there is no discipline amongst them. Today, however, they are giving up herding in favor of a settled life of trade and farming. The slyness and cleverness of the Gujars have become proverbial.
Dameli
The Dameli are immigrants from Afghanistan and have settled in the southern parts of Chitral, about 20 miles north of Arundu/Arnadu. They are divided into two groups; Shintari and Sawatis or Afghanis. The Shintari claim that they are the originals or ancient inhabitants of the area. The latter separated themselves from Arandvi Afghans and came here around 1400 AD. They speak Damia, a language that is related to Khowar and Gowarbati.
Gawari or Arandui
Gower Bati is their mother tongue while Afghanistan their original homeland. They inhabit the valleys that are in the extreme south of Chitral and are be grouped into three categories:
*The Sniardai came about 500 years back from Asmar in Afghanistan.
*The Sultana came from Jalalabad and have been living here for about eight generations.
*The Afghani or Swati came about twenty generations back from the Kohistani area of Dir and sawat.
Sariquli
In 1939, the Sariquali migrated from the Chinese Turkistan and settled in the north of Chitral in the Baroghil valley. They converse in Sariquali, a distinct Turk dialect also spoken in the Sariqul mountain area in Tashquraghon.
Kirghiz
Here we have a famous Turk race of Central Asia who speak Kirghiz, a language well known in history. They migrated form Andijan Fargana valley in western Turkistan (a part of what we know today as Uzbekistan) and settled in Baroghil valley.
Pathans
In 1915, the Pathans came to Chitral from Dir and Jandul. They came on a trade and diplomatic mission and but settled here due to the affection and hospitality of the ruler of Chitral. With time, their population spread all over Chitral, but Drosh, Chitral, Mastuj and Arnadu (or Arundu). Pathans are caring, sympathetic and loving people. They depend on trade and business for a living, and most of the trade of Chitral is in their hands. Though they live with the Khow, they disloke mingling with them. Subsequently, their customs and habits are safe from Khow Influence. Pashto remains their mother tongue. 
Dangerik
They have come from Chilas and have been living in Ashirat in Drosh Tehsil for about twelve generations. Their language, called Phalura, is a dialect of Shina
Afghans
The Soviet invasion of Afghanistan in 1979 forced the Afghans to take refuge in Chitral, Pakistan. Some of these Afghans are from Panjsher and Badakhshan and Persian is their lingua franca. Others belong to the Pashtu speaking belt of Nangarhar, Qunduz and Kunnar.
Mukhbani or Yidgha
This tribe came from Badakhshan and settled in the west of Chitral in Lutkoh Valley. Yidgha is their native tongue, and this is the only thing they have preserved in this area. For they have changed their habits and customs and merged themselves into the Khow social set up.
Languages
There are 12 languages are spoken in various parts of Chitral Valley. Some of these languages are indigenous to the valley while the speakers of others emigrated to the valley from neighbouring areas and counties. Most of these languages are highly endangered because of lack of documentation.  Below are the brief descriptions of the languages. 
Dameli
Dameli (ISO 639-3: dml) is spoken in several isolated villages in a side valley called Damel in southern Chitral. The Alternate names used for the languages are Damia, Damiabaasha and Gidoj. The language is classified into Indo-European, Indo-Iranian, Indo-Aryan group of languages. Dameli has been substantially influenced by Pashto and Nuristani Language. The Population of Dameli speakers are nearby 6000 and the number is increasing. 
Gawar-bati
Gawar-bati(ISO 639-3: gwt) language belong to  Indo-Aryan group of languages. The other names used for the language are Kohistani, Narsati and Arandui. Gawar-bati speakers live along the Kunar River, predominantly along the Pak-Afghan border area. In Chitral a main village of Gawar-bati language speakers is Arandu. Most of villages of this languages speakers are laying across the boarder in the Kunar province of Afghanistan.  The total estimated user of the language in both countries 9,960. The number is decreasing and the speakers are switching to Pashto language.
 Gojri
Gojri is a vast spread language of this sub-continent and also found in Afghanistan. The language is classified into Indo-Aryan in the Indo-European family. In Chitral Gojri language is spoken in more than a dozen villages mostly in southern part. The largest number of Gojri speakers lives in Nagar village of Chitral with 75 homes belonging to this community. Other villages of Chitral where Gojars are found are situated in Shishikoh valley.  They arrived in Chitral earlier than the beginning of nineteenth century. The exact number of Gojir speakers live in Chitral is not known but their pollution is to be believed a few thousands.
Kalasha 
The Kalasha (ISO 639-3: kls) language  also named Kalashamon and  Kalash. It is spoken in three Kalash valleys named Birir, Rumbur, Bumburet.   All these three  valleys are situated nearby to one another in the  south of Chitral. The language is equally understood in each valley with slight variances. The number of Kalasha Speakers are 5,000 and the number is decreasing sharply. Kalasha people are shifting to Khowar language.
Khowar
The Khowar (ISO 639-3: khw) speaking people are the largest group in Chital. It is also called Qashqari by Pashtoon speakers . This language is also classified into Indo-Aryan in the Indo-European family. In addition to Chitral, the language is also spoken in Gilgit-Baltistan and Swat valley. The estimated number of Khowar Speakers in all region is around half million. Khowar is a literate language, with books, magazines, radio programmes and audio/ video documentation.
Kirghiz
Kirghiz(ISO 639-3: kir) is a Turkic language in the Altaic family of languages. It widely spoken language with speaker in China, Kyrgyzstan, Tajikistan and Afghanistan. Some reports reflected that there are few Kirghiz families  living in the Baroghil area extreme north to  Chitral.  Historically these people came 1940 from Andijan in the Kirgiskaya Republic fleeing the invasion of Soviet Union. The great thing about Kirghiz community in Chitral is that they love their language and pass on to their younger generations that's why the language has not been affected so for. Those children who are born to mixed parents also learn the language.
Kamviri-Kataviri (Shekhani)
The Kati (ISO 639-3: bsh) and Kamviri (Kamviri xvi]) Language speakers have emmigrated to Chitral in various time from Nuristan Valley in Afghanistan. Kati is different from Kamviri but the two are significantly mutually intelligible. The speakers of both the languages in Chitral like to call their languages as Shekhani. Some of them also prefer to call their language Nooristani. In Afghanistan, Kamviri is spoken in Southern Bashgal Valley while the two varieties of Kataviri are spoken in the Nooristan region and Bashgal valley of eastern Nooristan.  In Chitral the villagers of the language speakers are Shekhandeh (Bomburat), Goboor, Badogal, Langurbat. Some families also live in Urtsun
Madaglashti
A dialect of Dari (Persian) in Afghanistan is spoken in upper Shishikoh valley in the village of Madaglasht 30 kilometres north of Drosh. This community has been present in Chitral for over 200 years and they are migrated from Afghanistan to the area.  According to the linguists, Madaglashti is same as Dari (Farsi) but the speakers of this language insist on this title. The number of Madaklashti speakers are around 3000.
Palula
Palula (ISO 639-3: phl) language belong to Indo-European, Indo-Iranian families of languages. It is also called Phalura and Dangarik War. In Chitral the language  is spoken in Southern part in  Ashret and Biori valleys as well as in the villages of  Kalkatak and Purigal. Some Speaker also live  in Dir Kohistan. The number of Palula Speaker are 10,000.
Sariquli
Sariquli (ISO 639-3: srh) is another language spoken in Baroghil in the extreme north of Chitral in boarder of Wakhan corrido in the same area of Chitral, where Kirghiz and Wakhi languages are found. Sariquli is a Pamir language in the Iranian branch of the Indo-European family. In 1948 some Sariquli people came in Chitral  from China and settled here. Nowadays there number are 70 speakers of the language in Broghil.  The majority of Sariquli speakers live in the far western end of the Xinjiang-Uygur Autonomous Region of China. Sariquli language is on the verge of extinction in Chitral for being surrounded by Wakhi and Khowar languages and young people, born to mixed parents don't learn it. Only adults are using Sariquli language while speaking to each other.    
Wakhi
Wakhi (ISO 639-3: wbl) belong to  Indo-European, Iranian family of languages. The language is spoken in Tajikistan, Kyrghistan,  China and Pakistan. The name Wakhi is derived from Wakhan, the name of the narrow corridor of Badakhshan province in Afghanistan which separates Pakistan from Tajikistan.  Some families of Wakhi live in Broghil in extreme north of Chitral. In Pakistan majority of this language speakers live in Gilgit-Baltistan. Total speaker of this language in all countries are 58,000.
 Yidgha
The Yidgha (ISO 639-3: ydg) language is among the 23 languages of Pakistan which have been declared endangered by UNESCO.  The language is also called Lutkuhwar or Yudga and is spoken in the Lutkoh Valley, about 46 km west of Chitral. The Yidgha people originally migrated to this area from the Munjan valley in Afghanistan about 500 years ago.  The Number of Yidgha speakers are 6,150. Yidgha is moving closer to extinction every day. More and more people are switching to using Khowar, and in some villages, Yidgha is no longer being passed on to the next generation.
 Urchuniwar (A dialect of Kalasha)
Urtsun is a valley, situated up in the hilly area of southern Chitral where Kalasha people used to live in the past. Urtsuniwar / Urchuniwar is not different from Kalasha language. The language has just been renamed by the speakers who have converted to Islam. This renaming has given a new life to the language which is tagged a language of Kafirs, pagans and abandoned by those who quit their religion. More than two thousand people speak this language. There is 70 % similarity between Urchuni War and Kalasha.
District Statistics
According to latest census of Pakistan 2017 population of Chitral is 447362. In Total population males are 225846, female is 221515 and Shemale / Transgender are 1. Average annual growth rate is 1.80 from 1998 to 2017.
Education Statistics
Chitral (Lower and Upper Chitral) has 98 percent literacy rate, the highest in the KPK, in the age group of 6-10 years. 
Famous Personalities
Historical personalities
His Highness Shuja Ul Mulk
Politics
Shahzada Mohiuddin
Saleem Khan
Shahzada Iftikhar Uddin
Chitral Gol National Park
Chitral Gol National Park is one of the national parks of Pakistan. It is located in Chitral District in the NWFP of Pakistan beside the Chitral River, at a distance of two hours drive from Chitral city. The park is also known as Chitral Gol National Park. The word Gol in the local language means 'the valley'.
The way leading to the park is quite narrow and dangerous, yet more risky during the rainy days. It is located between 1450 metres and about 5000 metres above sea level. It has an area of 77.5 square kilometers.
This park includes three valleys. Several Glaciers also lie in the park through which several springs make their way and ultimately form a stream of 18 metres. The cold water of this stream falls towards the east into the Chitral River. The park is rich in trees particularly Cedar trees. Chitral Gol National Park is surrounded by high Hindukush peaks and is a habitat of a number of wildlife like: Kashmir Markhor, Ibex, Snow Leopard, Lynx, Chakor, Ram Chakor, Pheasant, Himalayan Griffon Vultures, Golden Eagle, Himalayan Snowcock, Himalayan Monal Pheasants, and a large variety of birds and wild animals. National bird of Pakistan, Chakor, National animal, Markhor and National Tree, Diyar are also found in Chitral Gol National Park.
Rainfall:
The annual rainfall in its region is estimated to be 462 ml. In September it rains more on the spectacular peaks surrounding the park. However, in November the rainfall is more in the valleys and on the lower peaks .There is also a session of snowfall during the winter season. The snow covered white peaks also enhance the beauty till June. After which it starts melting. The general weather is cold and dry. The temperature ranges from -12.2 to 43.3 °C.
Getting There
By Air
PIA operates a daily flight (subject to weather conditions) between Islamabad to Chitral and one flight Peshawar to Chitral. The flying time is 60 minutes and 40 minutes respectively. Islamabad and Peshawar can be reached by air; rail and road from all the major cities of Pakistan. For flight enquiries in Chitral, please contact to PIA Booking office, Opposite Polo ground, Chitral.
By Road
Chitral is accessible from Peshawar by the 365km long partly metalled and partly gravel-top jeep-able road, which goes via Malakand, Director and the 3118 meters high Lowari Pass which is open during the summer months only, i.e from June to the end of October and may even close earlier due to an early snowfall. Chitral can also be reached from Gilgit via 3810 meters (12,500 feet) high Shandur Pass.
Festivals
Kalash Festivals
The Kalash are famous for their festivals and dress code. They for example know how to let their hair down in style. There is much dancing where the elders chant legends with drum accompaniment and the women dance around in the open place. Locally brewed wine is drunk in copious quantities. The festival dates are only fixed to a certain extent as the people and the dates depend on the harvest.
The festival of Chilimjusht or Joshi is for spring harvest and last 4-6 days around mid May and the Uchal festival on 20th August celebrates the pre-harvest with cheese, corn and wine. Chitirmas in mid December celebrates the winter solstice and is the most impressive festival, lasting for up to 10 days.
Religious Beliefs:
The kalash worship many gods of Kafiristan like Balomain, the heroic demi-god of the kalash Balomain's spirit is said to pass through the valley counting the people of Kalash and collecting their prayers to return them to Tsiam, the mythical land of the kalash.
The Kalash people thank the creator during their festivals. Each festival is meant to give thanks to the Almighty. The dancing is one way of showing happiness and thankfulness towards the Creator.
Much of the dancing take place in large circles around a bonfire and people chant with mesmerizing repetitions – with just a drum beat accompanying the voices. The girls wear intricate dresses made of cowry shells, coins and beads with beautiful hair braiding and headwear. Each heavy headdress weighing several pounds is presented to a girl by her uncle. The jewellery includes necklaces made from apricot kernels, a traditional gift during the festivals. Single women are expected to find themselves a husband during these festivals.
Chilimjusht or Joshi-Spring Festival (13-16 May)
This celebration is organized to pay thanks to the Almighty. The people celebrate the arrival of the spring season with new hopes and aspirations. Foreign and local tourists particularly schedule their visits in accordance with this festival, having specific aims to record various events of the festival.
Uchal- Summer Festival (20-22 August)
Kalash people organize Uchal, the harvest celebration to pay homage to the Almighty that blessed them with fruits and other crops. They prepare cheese, buttermilk and corn to celebrate this festival.
During the festival prayers, a procession is made to a high plateau outside the village in Balangkuru
where the long night of dancing begins. The festivals continue for many more days moving on to different locations within the valleys.
Chitirmas- Winter Festival (15th – 22nd December)
The festival is celebrated to welcome the arrival of the New Year. All the Kalash people remain indoors and outsiders are not allowed to enter their settlements for 7 days. The people have a merry time by free wine drinking and they sacrifice goats. People show their thanks by dancing and singing together, enjoying every moment
Chitirmas- Winter Festival (15th – 22nd December)
The festival is celebrated to welcome the arrival of the New Year. All the Kalash people remain indoors and outsiders are not allowed to enter their settlements for 7 days. The people have a merry time by free wine drinking and they sacrifice goats. People show their thanks by dancing and singing together, enjoying every moment
Shandur Polo Festival (7 -9 July)
The Shandur polo ground is in District Chitral. It is bordered on the West by Yarkhoon valley and on the Northern by the valley of Gilgit District. The polo ground is about 153 km away from the main Town Chitral and accessible by jeep. The road is closed during winter due to heavy snow.
The world famous Shandur Pass is about 3740m above sea level and lies midway between Chitral and Gilgit. The distance from Chitral is 153 km and Gilgit is about 211 km. These areas remain snow covered in winter and turn into a green heaven during the summer season. There is a big lake in the area.
Mountaineering in Chitral Hindukush
TEXT HERETirich Mir 7708m
Tirich Mir (alternatively) Terich Mir or Terichmir is a chain of several peaks; all above 7000m. Tirich Mir overlooks from Chitral town and can easily be seen from many villages of Chitral. Tirich Mir main 7708m is the highest peak in the whole of Hindukush mountain range of Chitral-Pakistan.
Other summits of Terich Mir group are:
Tirich Mir East 7690m
Tirich Mir West II 7500m
Tirich Mir West I 7487m
Tirich Mir West III 7400m
Tirich Mir West IV 7338m
Tirich Mir South 7100m
Tirich Mir North 7056m.
 Hydro-Electricity Farm
Small running rivers and streams of Chitral give the district a distinct advantage of potentially producing excess hydro-electricity. Following highlights are of importance here:
Current hydro power generation is 36 MW for district Chitral. Total hydroelectric investment potential (present capacity, feasibility study in completed & in progress, work in progress and surveyed) stands at around 1376.43 MW ( Ayun Gol 15.17 MW, Istaru-Booni 72 MW, Gahrit Swir Lasht 370 MW, Torcamp –Guddubar 409 MW, Mujigram – Shogor 64.26 MW, Kari Muskhur 446 MW) as per PEDO reports. There may be other potential sites also for hydropower generation but they have not yet been identified for potential investment.
Minning Sector and Jewellery
District of Chitral carries major development potential in this sector and can become 'Gem, Jewelry and Mining Hub'. A systematic geological mapping and mineral exploration in Chitral was carried during 1974-78 and again from 1992-95 as per KP Mineral Development Department report (2014).
Following minerals and gemstones are found in the region:
Chromite

Granite (30,000 Million tonnes) and Marble (15,600 Million tonnes)

Serpentine, Hematite, Aquamarine, Tourmaline / Blue Tourmaline, Quartz, Pegmatitehosted Beryl-Tourmaline-Topaz-Garnet clan, Almandine (Red) Garnet, Emerald.

Copper, Gold

Iron ore (160 tonnes), Lead (122 tonnes), soap stone (317 tonnes) – (2012-13 KP B. Statistics report)
Mining of Iron ore, Copper and Gold may be held back, soft-pedalled. The potential for other minerals has not been quantified yet. The decision to go for the development / extraction of these minerals need to be taken very thoughtfully and giving due attention to the impact on environment and Chitral's 'image' and 'brand'. Also, accessibility to market and heavy logistics issues will make Chitral's Iron, Copper and Gold to be far less competitive than other sources – especially those in Baluchistan
Tourism and Chitral:
The tourism industry of Chitral is comparatively well established but has potential to grow much more, given the history, landscape and fauna of this district. Following highlights should be noticed here as they make Chitral quite unique from tourism perspective:
The Kalash valley of Chitral is not only famous for its exceptional beauty but for the people living there. The history of these people is very much mysterious, which makes them a perfect attraction point for archeological tourists.

Chitral is a gateway region to Shandoor region; the place where the world's famous Polo Festival is held every year, which makes an ideal resting spot for tourists.

The District has array of exotic tourist spots on offer for visitors, including Trich Mir, Barmoglasht Resort, Garam Chasma, Ayun Valley, Koghazi and Goleen.

In addition, there are natural spots for hiking and camping for the tourists.

13 different languages are spoken in by the people of Chitral.
Forestry and Chitral:
Chitral is well resourced with forest cover, according to experts about 4.7% of the total area of the district was covered with forest, however it is depleting fast due to increase in population and development activities. As now, the local population use it mostly for fire wood. There is opportunity to earn some "carbon credits' with the available forest, as developed countries have well exceeded their quota of carbon emission and hence can buy it from Pakistan.
 Specialities of Chitral District:
Chitral is the most beautiful and peaceful district of Pakistan situated at the North most in Khyber-Pakhtunkhwa province. It shares a border with Gilgit-Baltistan to the east, with Afghanistan to the north and west, and with the Khyber-Pakhtunkhwa districts of Swat and Dir to the south.  A narrow strip of Wakhan Corridor separates Chitral from Tajikistan in the north.

Chitral is famous for its natural beauty, the simplicity of its residents and its unique culture.  It is the most fascinating and charming place in the Hindukush range. The landscape of Chitral is extremely mysterious, with its steep harsh mountains, lush green valleys, beautiful pastures and big glaciers, which have made it one of the most difficult and inaccessible areas of the world transforming it into an adventurous place on earth.

One of the famous products of Chitral is Chitrali Patti. . Chitrali Patti, called "Shu" in Khowar, is a pure wool fabric, woven from entirely hand-spun yarn. It comes in natural shades of white, gray, black and brown, and the distinctive walnut-dyed, red.

Shandur is the highest polo ground in the world, the game of polo is played between Chitral and Gilgit in every year of July. Besides polo, Shandur Festivities have much to offer to the tourists, who start arriving almost a week before the three-day festivities that from July 7-9 each year. Nights are usually spent playing cards and dancing on local tunes. Music competitions are also held between groups from Chitral and Gilgit. During day the tourists go to nearby Phandar Valley for freshwater fishing.

Chitral is also home of the Kalash tribe who reside in three remote valleys southwest of Chitral Town. Between the town of Drosh and Chitral city, a track turn to the left from village of Ayun on Kunar river to the Kalash Valley, where these strange yet attractive people live in three villages of Rukmu, Mumret and Biriu (called Rambur, Bumburet and Birir in local Kalashi language), south of Chitral. Bumburet (above right), the largest and the most picturesque valley of the Kafirs, is 40 kilometres from Chitral and is connected by a jeepable road.

The general population is mainly of the Kho people, who speak the Khowar language (or Chitrali).

There are a lot of traditional dishes of Chitral such as the Pandir Muzhi which is made from walnut and cheese, crushed in between the dough of wheat and cooked in the oven. Other popular dishes of Chitral are zholai, pushor tiki, kali, Kawirogh, and lazhek.

Music is a very important part of the Chitral culture, drums and sitar are played while men get in circles and dance during annual festivals and weddings as well. Some instruments which are popular amongst the people of Chitral are; Sitar, Dol, Sunai, Damama, beru, Gharba.

The people of Chitral are very skilled and they make a lot of hand made products which are then sold worldwide, an American entrepreneur took this advantage and took handkerchief which were made by the Chitrali women and sold them in American earning huge profits. These people are not only skillful but very creative as well.

Water resources of Chitral are to be considered a great and invaluable assets of Chitral and rivers are called ' liquid gold' in the terminology of natural resources.

The tibetan wolf, red fox, yellow-throated marten and himalayan otter are all found in the park. Common birds in the park include, the bearded vulture, himalayan vulture, golden eagle, demoiselle crane, peregrine falcon, himalayan snowcock, himalayan monal, snow partridge and rock partridge.

Famous fruits of Chitral are peach, apricot, damson, apple, pomegranate, grapes and pear. It is also famous for its dry fruits Almonds, apricot, pistachios and walnut. People of Chitral are very welcoming and cooperative.

The people of Chitral and Kalash are also very famous for their extremely unique dresses and dances which they carry out, they are very fond of music as well (Specially the tribes of kalash). There are drums playing which the women would dance in a circle and some elderly people would be sitting on the side and singing old songs during festivals. All the dancing which takes place is supposed to be medium to which the Kalash people thank their gods for everything that the Almighty has provided them with. 

Water resources of Chitral are to be considered a great and invaluable assets of Chitral and rivers are called ' liquid gold' in the terminology of natural resources.
Issues in the City
People in Chitral, Pakistan are suffering and dying because they lack access to modern healthcare. The underlying reasons for this crisis are highly diverse, yet interconnected, due to the social, geographical, political, and economic factors in the region.

The isolated and underprivileged conditions of the mountainous district make it a difficult place to thrive. Healthcare-related obstacles include geographical hurdles, lack of basic resources, including human resources, the absence of modern facilities, the poor performance of the government health department, the complexities concerning women and children's health, and other associated difficulties. 

There is no industrial infrastructure in the district and majourity population rely on services sector instead of doing business. Non_existence of industrial base in the district.

Food security is another issue in the area. Supply of commodities is blocked most of the time.

Like other parts of Pakistan Chitral also faces serious problem of energy crisis and electricity breakdown. District Chitral is rich in hydel power potential due to large numbers of water fall as well as availability of ample water resources for electricity generation in the district, but government had not taken any step to tape this potential of Chitral. According to survey reports conducted by various NGOs and development organizations about 14000 Mega watt electricity could be generated from various parts of Chitral through water Sources, but so far only five or six mega watt had been generated in Chitral.

Pollution is a direct result of population growth and migration of people from rest of the district towards town Chitral. River water contamination, heaps of garbage in every nook and corner of the town and discharging sewer water in Chitral River are severe problems faced by inhabitants of Chitral. Plastics of different types are also lying in various places and make whole area polluted and disfigure beauty of the district in awkward manner. District government, Non-Government Organizations and members of civil society are also ignoring this issue which poses serious threat.

Excessive population growth in the district squeezed cultivable land by diverting agriculture land to residential town and farm forests to barren land. If this trend continues in near future Chitral will face serious energy crisis due to scarcity of fuel wood, unless alternative source of energy is provided in the district. Due to geographical location of the

There are many educational institutions working in Chitral imparting general education but no technical and vocational institute is operating both in private and government sector. To develop human resources of Chitral, technical and vocational educational institutions are required to be established in Chitral, otherwise un- employment among educated youth will cause serious economic and social problem in Chitral.

Excessive growth in population and pressure on limited forest resources will result serious fuel crisis in Chitral and availability of alternative source of fuel as well as timber will control deforestation in the district.

Tourism is a rich source of revenue generation in Chitral if law and order situation is improved in KPK and greenery of the district is maintained by controlling deforestation as well as preserving unique Kalash culture which is also strong point of attraction of foreign tourists.

District Chitral is known for its peaceful environment both national and international level and this situation should remain intact. Extremist factors across the borders of Afghanistan posed serious security situation in the district and government should take extra-measures to preserve existing peaceful situation in the district which is the only positive factors and it will result improvement in economic condition of the district.
Conclusion:
Chitral is one of the mountain regions of Pakistan, lying in the extreme north. Its total area is 14800 km and 90% area is under mountains. The highest and most dense section of Hindu Kush lies within the borders of Chitral.The Chitral valley, located in the northern region of Pakistan, is one of the most remarkable places in the world when it comes to natural scenic beauty. Its picturesque mountains, sulphur springs, Juniper forests, friendly people and rivers teeming with the famous Trout fish are truly spellbinding.
Chitral is also the most peaceful Region of Pakistan. Its culture is unique. There are two racial groups in Chitral. One is Kalash who are reported to be the descendants of Alexander the Great. The Kalash are now only about three thousand people and live in the southwest valleys of Chitral. They have their unique culture with three main festivals a year and a major source of tourist attraction. They live peacefully with their neighbors who outnumber them. Their ways of life are quite interesting. The other group living with their Kalash neighbors in a state of ideal friendship and harmony is called Kho who are reputed for their culture and peace loving nature and integrity. British and Chitrali writers have written many books in English on Kalash culture as well as on Chitral as a whole, and these books are available in major libraries, in the market as well as on the Net. Research on the history, origin and Culture of the Kalash community of Chitral is still in progress.
The Chitral valley is situated amidst the mighty mountains of the Hindukush range. This mountain range is 322 km long. The local language spoken in the Chitral valley is Khowar Language. Urdu, the national language of Pakistan, is also understood. The people of Kafir Kalash use their own language called the Kalashi language. The people of Chitral valley mostly wear "Shalwar Kameez" which is the national dress of Pakistan. Women wear "Duppatas" and Shawls along with "Shalwar Kameez". The most popular head dress of the Chitrali men is the woolen "Pakol". In winters, the men wear long baggy coats having long sleeves known as the "Shuqa". These coats are also made out of wool. The traditional sport of Chitral is Polo. World's highest Polo ground (Shandur Polo ground) is also present in this area, where the Shandur Polo festival takes place.
Chitral is offering investment opportunities in different sectors like establishing power stations, promote tourism industry, mining industry while Gemstones are the productions of Chitral. To facilitate sustainable economic growth of Chitral District, the Government of KP plans to establish a 40 Acre Economic Zone having proximity and easy access to the Chitral Airport, and on the main road giving it connectivity to CPEC Trade, to Afghanistan and the rest of Pakistan. The Chitral EZ will not only serve the economy of Northern KP Districts but also neighboring Afghanistan. After the completion of Chitral-Dushanbe trade route, the region will be provided with enormous new opportunities for trade while connecting to other Central Asian states.It is concluded that the commercial viability of Chitral district is very strong. Investments could be made there in different ventures as stated above which can generate promising revenues.