May 9, 2023
Sukkur City Profile by Directory Pakistan.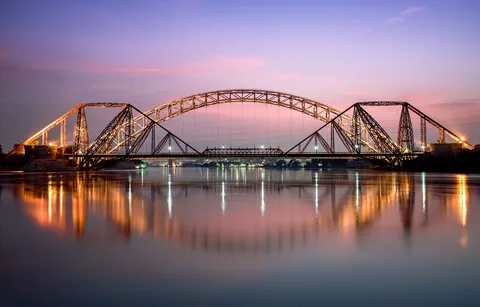 Introduction to City:
Sukkur is a city in the Pakistani province of Sindh along the western bank of the Indus River, directly across from the historic city of Rohri. Sukkur is the third largest city in Sindh after Karachi and Hyderabad, and 14th largest city of Pakistan by population. New Sukkur was established during the British era alongside the village of Sukkur. Sukkur's hill, along with the hill on the river island of Bukkur, form what is sometimes considered the "Gate of Sindh". Sukkur, city, Sindh province, southeastern Pakistan. The city lies on the west bank of the Indus River, connected with Rohri on the opposite bank by a cantilever bridge. Midstream between the two cities is the strategic island fortress of Bukkur. The old town contains many historic tombs and mosques, including the Mīr Maʿṣūm Shāh Minaret . The newer part of Sukkur lies on low, bare limestone ridges that slope down to the river. It was incorporated as a municipality in 1862. There are rail and trunk-road connections with Quetta, Multān, and Karāchi. An industrial and trade centre, it has biscuit, cigarette, oil, lime, and cement factories and cotton, silk, thread, and flour mills; boatbuilding is also significant. The Sukkur Industrial Trading Estate was established in the 1950s with facilities for processing local products, such as wool, oilseeds, and hides. The city has several government colleges affiliated with the University of Sindh.
Surroundings of City:
The surrounding region is a vast alluvial plain broken only occasionally by low limestone hills. Large salt patches (kalar) occur in the north, while the Thar Desert lies to the east. Leatherware, earthenware, and metalware and the working of cotton cloth and silk are common handicrafts; pipe bowls, snuffboxes, and scissors are also made there. The Sukkur Barrage (completed 1932), nearly 1 mile (1.6 km) long, crosses the Indus River 3 miles (4.8 km) below Sukkur Gorge and feeds irrigation canals. The system serves an area of wheat, cotton, rice, oilseed, and fruit cultivation. Aror, just east of Sukkur, is the site of the capital of a Hindu Brahman dynasty that flourished just prior to the Muslim invasion.
2010 Flooding in Pakistan
In summer 2010, extraordinary flooding of the Indus River overwhelmed swaths of land across Pakistan, to especially devastating effect in Punjab, Sindh, and Khyber Pakhtunkhwa provinces. Sukkur itself was hard hit: by mid-August it was estimated that some 80 percent of Sukkur's residents were homeless. Pop. (1998) 329,176.
Etymology:
The name Sukkur may derive from the Arabic word for "sugar," shakkar, in reference to the sugarcane fields that have historically been abundant in the region. This may be an allusion to the relative prosperity of the region at the time. Others have suggested the name may derive from the word Suukh, derived from a Sindhi word for "comfort."
The region around Sukkur has been inhabited for millennia. The ruins of Lakhan-jo-daro, located near an industrial park on the outskirts of Sukkur, date from the Mature Harappan period of the Indus Valley Civilization, between 2600 BCE and 1900 BCE covers more than 300 Hectares of area and is touted to be second largest city of the Indus Valley Civilization just 75 Kilometers away from another major city of Indus Valley Civilization, Mohenjo Daro
"Old Sukkur" was initially a small village prior to the establishment of a military garrison in 1839. Sukkur was built on a low limestone ridge on the banks of the Indus River. The city was once surrounded by groves of date palms that were traditionally believed to have grown from the discarded date-pits from Arab invaders in the 8th century.
The village of Sukkur was directly across from the larger town of Rohri, which served as a busy port along the Indus by the 1200s, and was a major trading centre for agricultural produce. An 86 foot (26 m) tall minaret was built at Sukkur's shrine of Mir Masum Shah in 1607.
British
Modern Sukkur, or New Sukkur, was built during British rule alongside what was once a small village directly across from the historic city of Rohri. The British established a military garrison here in 1839, which was abandoned in 1845, though Sukkur continued to grow in importance as a trading center. The Sukkur Municipality was constituted in 1862.
Completed in 1889, Sukkur's Lansdowne Bridge connects the Sukkur to Rohri across the Indus, and was one of the first bridges to cross the river. The bridge made the journey between Karachi and Multan easier. The bridge was built with two large pylons rather than a series of pillars extending across the river – a cutting-edge design for such an expansive span. The bridge was also made of metal, and features an unusual design.
Sukkur Barrage (formerly called Lloyd Barrage), built under the British Raj on the Indus River, controls one of the largest irrigation systems in the world. It was designed by Sir Arnold Musto KCIE, and constructed under the overall direction of Sir Charlton Harrison between 1923 and 1932. The 5,001 feet (1,524 m) long barrage is made of yellow stone and steel and can water nearly 10 million acres (40,000 km2) of farmland through its seven large canals.
On the eve of the Partition of British India in 1947, Sukkur's old town was home to about 10,000 residents, while New Sukkur was home to 80,000.
Modern
After the formation of Pakistan most of the city's Hindu population migrated to India, though like much of Sindh, Sukkur did not experience the widespread rioting that occurred in Punjab and Bengal. According to the 1941 census, about 70% of the population of Sukkur was Hindu, this number decreased to 2% by the 1951 census as a result of the partition. However, less than 500 Hindus were killed in all of Sindh between 1947 and 1948 as Sindhi Muslims largely resisted calls to turn against their Hindu neighbours. Hindus did not flee Sukkur en masse until riots erupted in Karachi on 6 January 1948, which sowed fear in Sindh's Hindus despite the fact that the riots were local and related to Sikh refugees from Punjab seeking refuge in Karachi. Muslim refugees from India settled in Sukkur.
The Sindh Industrial Trading Estate in Sukkur was established in 1950. The Ayub Bridge was built in 1962, and spans the Indus River alongside the British-era Landsdowne Bridge. The city suffered major flooding during the 2010 Pakistan floods which inundated large parts of the city.
The small Eocene limestone outcropping upon which Sukkur was founded is the most significant land deformation on the vast plains along the Indus Valley in Sindh and Punjab. The outcropping is part of the "Jacobabad-Khairpur High" and Rohri Hills. The outcropping, along with the similar outcropping on Bukkar Island are sometimes referred to as the "Sukkur Gorge," and has historically served as the traditional northern boundary of Sindh.
Climate:
Sukkur has a hot desert climate (Köppen climate classification BWh), characterised by extremely hot and hazy summers with warm winters. Sukkur is known for its extremely hot summers, and was described as the hottest city in British India. Wind speed is low throughout the year, and sunshine is abundant. Summer temperatures regularly surpass 50 °C (122 °F). Dry heat is experienced starting April to early June until the Monsoon season starts to arrive. Monsoons in Sukkur are not very wet, but bring high dew points, resulting in high heat indices. Monsoons recede by September, but it is not until late October that the short lived autumn season is experienced before the onset of the region's cool winters. The average annual rainfall of Sukkur is 87.6 mm (3.45 in) and mainly occurs in the monsoon season. The highest annual rainfall ever is 698 mm (27.5 in), recorded in 2022 and the lowest annual rainfall ever is 0 mm in 1941.
                                                                              Climate Data for Sukkur

Month

Jan

Feb

Mar

Apr

May

Jun

Jul

Aug

Sep

Oct

Nov

Dec

Year

Record high °C (°F)

31.0




(87.8)

38.0




(100.4)

45.0




(113.0)

49.0




(120.2)

50.5




(122.9)

50.5




(122.9)

46.5




(115.7)

44.5




(112.1)

43.5




(110.3)

41.6




(106.9)

37.2




(99.0)

31.0




(87.8)

50.5




(122.9)

Average high °C (°F)

24.8




(76.6)

26.2




(79.2)

32.4




(90.3)

39.2




(102.6)

43.3




(109.9)

43.2




(109.8)

41.0




(105.8)

39.1




(102.4)

37.9




(100.2)

35.6




(96.1)

30.3




(86.5)

24.8




(76.6)

34.8




(94.7)

Daily mean °C (°F)

16.5




(61.7)

18.2




(64.8)

23.9




(75.0)

30.1




(86.2)

34.6




(94.3)

35.7




(96.3)

34.7




(94.5)

33.2




(91.8)

31.4




(88.5)

27.8




(82.0)

21.7




(71.1)

16.5




(61.7)

27.0




(80.7)

Average low °C (°F)

8.3




(46.9)

10.2




(50.4)

15.4




(59.7)

21.1




(70.0)

25.9




(78.6)

28.3




(82.9)

28.4




(83.1)

27.3




(81.1)

24.9




(76.8)

20.0




(68.0)

13.2




(55.8)

8.3




(46.9)

19.3




(66.7)

Record low °C (°F)

1.0




(33.8)

0.5




(32.9)

3.0




(37.4)

9.5




(49.1)

16.5




(61.7)

19.5




(67.1)

20.8




(69.4)

17.5




(63.5)

19.5




(67.1)

12.4




(54.3)

5.0




(41.0)

−1.5




(29.3)

−1.5




(29.3)

Average precipitation mm (inches)

3.5




(0.14)

7.0




(0.28)

6.8




(0.27)

5.7




(0.22)

5.0




(0.20)

4.5




(0.18)

20.8




(0.82)

20.4




(0.80)

0.9




(0.04)

3.0




(0.12)

0.6




(0.02)

9.4




(0.37)

87.6




(3.46)

Average precipitation days

0.3

0.6

0.8

0.4

0.4

0.5

2.0

0.6

0.1

0.1

0.1

0.3

6.2

Average relative humidity (%)

52

48

39

28

29

38

49

56

52

46

47

52

45

Mean monthly sunshine hours

276

294

318

345

363

372

357

336

321

309

288

276

3,855
 Population:
Sukkur is the third largest city in Sindh after Karachi and Hyderabad. The population of Sukkur is 551,357 according to the 2017 Census of Pakistan. Around 70% of the population speaks Sindhi natively, while 20% of the population speaks Urdu natively. Roughly 96% of the city is Muslim, while the remaining 4% comprise other minorities, overwhelmingly Hindus.Sukkur's economy is largely reliant upon the agricultural produce from northern Sindh's farms, and serves as a trading and processing center for agricultural goods. The city also once had a bustling shipbuilding industry. Sukkur is well-connected to the rest of Pakistan by road and rail, which in turn has attracted new industries such as chemical manufacturing, metalworking, and cement manufacturing.
Agriculture
Sukkur had a large fertile and cultivable land area. During kharif, rice, bajra, cotton, tomatoes and peas are cultivated; whereas during rabi the main crops are wheat, barley, graham and melons. Sukkur is famous, world over, for its dates. Sukkur also has a large Riveraine forest along the course of the Indus. These tropical forests are found within the protective embankments on either side of the Indus. During 1997–98 the total area under forests was 510 km2 (200 sq mi) which yielded 55,000 cubic feet (1,600 m3) of timber and 27,000 cubic feet (760 m3) of firewood besides other mine products.
Road
The city will be connected to Multan by M-5 motorway, with onwards motorway connections to Lahore, Islamabad, and Peshawar. Sukkur will also be connected to Hyderabad by the M-6 motorway, with onwards connections to Karachi via the M-9 motorway. The M-5 and M-6 are being built as part of the wider China-Pakistan Economic Corridor.
Rail
Sukkur railway station serves as the city's main rail station. Passenger services are provided exclusively by Pakistan Railways. The city's station is serviced by the Jaffar Express that runs between Rawalpindi and Quetta, the Sukkur Express that runs between Karachi and Jacobabad, and the Akbar Express that runs between Quetta and Peshawar.
Air
Sukkur Airport, located 8 km outside of the city, is served by Pakistan International Airlines, with direct flights to Karachi, Lahore, and Islamabad.
Education:
The Sukkur IBA University ( Sukkur Institute of Business Administration or Sukkur IBA) is a business school founded in 1994. The institute is ranked 3rd among the five independent business schools of Pakistan included in the Higher Education Commission Pakistan Business School Ranking 2013.
Begum Nusrat Bhutto Women University is the public sector University exclusively for women. Established on 50 Acre of land at the Rohri Bypass N-5 National Highway
The Ghulam Muhammad Mahar Medical College is a constituent College of Shaheed Mohtarma Benazir Bhutto Medical University.
The Aror University of Art, Architecture, Design and Heritages is established near Sukkur at Rohri bypass N-5 National Highway. The University is offerring the graduate, postgraduate an advance studies in the field of architecture, textile design, photography, interior design, civil engineering, communication design, ceramics and other disciplines.
Islamia Science College Sukkur was founded by the Syed Hasan Mian Advocate and he remained the Chief Patron of the College till his death, Syed Hasan Mian advocate with the help of Noble families of Sukkur founded 25 Schools and Vocational centers in Sukkur. He was the General Sec of All India Muslim League and close associate of Founder of Pakistan Quaid e Azam Mohammad Ali Jinnah.
Ziauddin University Sukkur Campus
Administration
The city of Sukkur is the capital of Sukkur Division and Sukkur District. Sukkur District has four Tehsils (Talukas) and many Union Councils.Sukkur is home to one of three circuit benches of the Sindh High Court.
Economy of Sukkur:
Sukkur's economy is largely reliant upon the agricultural produce from northern Sindh's farms, and serves as a trading and processing center for agricultural goods.The city also once had a bustling shipbuilding industry.
Sukkur is well-connected to the rest of Pakistan by road and rail, which in turn has attracted new industries such as chemical manufacturing, metalworking, and cement manufacturing. Sukkur is hub of many small and large scale industries. Among important industries are cotton textiles, cement factory, leather, tobacco, paint and varnish, pharmaceuticals, agriculture implements, hand pumps, lock making, rice-husking, and sugar. Small-scale cottage industries comprise hosiery, boat making, fishing accessories, thread ball spooling, trunk making brass-wares, cutlery and ceramics.
Olper's Milk a company that supplies milk
Al-Taj Ghee Industries (Private) Limited.
Kiran Sugar Mills
Cotton Ginning and Pressing Factory
Vegetable Oil
Ghee factory
Oil Mills
Flour Mills
Ice Factories
Continental Biscuits (LU)
Oxford Knitting Mills
Crescent Chemicals Beverages
Plastic Factories
Marble FactoriesAssociated Cement Rohri Limit
Specialities of City:
Rural economy of Sukkur region predominately consists of farming, which is also a major input for trading and manufacturing activities in the region. Thus farming is an essential and integral part of economy of the Sukkur district.

A nearly century-old diversion dam, commissioned under the British Raj, and the backbone of Sindh's agriculture is finally getting attention and a new life.

The Sukkur Barrage, the world's largest irrigation system of its kind, whose construction started in 1923 and operations began in 1932, will now undergo rehabilitation and modernization as the Sindh Government, with the assistance of the World Bank, has approved a plan to do so.

The legendary artificial barrier which was known as the Lloyd Barrage at one point in time, has seven off-taking canals, of which four are situated at its left pocket, while three of them are constructed at its right pocket. The canals situated at the left pocket are Khairpur Feeder East, Khairpur Feeder West, Nara, and Rohri Canal, while the three canals to its right pocket are Kirthar, Rice, and Dadu Canal.

Sukkur barrage, with its seven off taking canals irrigates 8 million acres of agricultural land, a whopping 75% of Sindh's agriculture land.

Khairpur Feeder East irrigates agricultural land starting from Khairpur city, passing through Kotdiji, Faizganj, and other cities and towns, eventually ending near Shaheed Benazirabad district, which was previously known as Nawabshah district – a small canal, which takes off from Khairpur Feeder East, known as Patni stream, is responsible for the irrigation of lands in Kandhra, Salehpat and Shadi Shaheed. Its counterpart, Khairpur Feeder West, which also passes through Khairpur city, is responsible for irrigating lands in Pir Jo Goth and Piryaloi.

One of Sukkur Barrage's largest canals, the Nara Canal, provides water to lands in Mirpur Khas, Sanghar, Tharparkar, and its final destination Umerkot. On the other hand, Rohri canal passes through the main Indus highway and irrigates land in Thehri, Kandiaro, and ends near Hyderabad, which is Sindh's second-largest city.

The off-taking canal on the right pocket, Kirthar, passes through Garhi Yasin, Shahdadkot and other cities, and concludes its journey in Dera Murad Jamali, in Balochistan, the birthplace of the late Prime Minister of Pakistan, Zafarullah Khan Jamali.

 Rice canal, also on the right pocket of the barrage, is the water body for non-perennial crops, meaning it is open for six months from May to October and is closed for the other six. True to its name, the canal supplies water to rice growing areas in Larkana, Khairpur Nathan Shah, and Mehar.

The remaining 25% of Sindh's agricultural lands are watered by the Guddu and Kotri barrages – which goes to show the Sukkur barrage's mammoth importance to the Sindh's agricultural economy.

Besides this, flood gates of the main barrage and all the seven offtaking canals are inspected for any damage and greased properly, because these gates mostly remain under water throughout the year.

The Sindh Government in its Environmental and Social Assessment Executive Summary has put forth the Environmental and Social Assessment (ESA), which consultants will adhere to during the rehabilitation and modernization of Sukkur Barrage.

The best thing to buy is Dates which are really a good gift from here.

One can also hunt for colorful handicrafts and Ajraks here

 
Issues in the City
The third largest city of Sindh, Sukkur, is facing so many problems. The majority of mega projects that the present government started five years back have not been completed so far. Flyovers and bridges have failed to control the traffic problems. There is no traffic management plan to accommodate the rapid increase in transportation and private vehicles.

The city's municipal arrangements are also inadequate. The garbage on the streets cannot be lifted because there is no effective local governance system. The city is facing water shortages in almost all areas. Drainage and water seepage have destroyed old roads. Residents cannot afford to adopt a negligent attitude towards these issues anymore. The government should take strong and effective measures to cope with the chronic issues clouded over the city.

Indus River water is completely polluted owing to falling/dropping of Municipal drainage, industrial chemical and hospitals' waste, and the same is not fit for human consumption or even for consumption of other living spies.

Rural economy of Sukkur region predominately consists of farming, which is also a major input for trading and manufacturing activities in the region. Thus farming is an essential and integral part of economy of the Sukkur district.

Pollution issue is very common in the city.
Conclusion:
Sukkur is the central city of Sindh province, It is located on the west bank of the river Indus. The city is the starting point for all the archeological sites in Sindh. There is also a very busy central Bazaar in the city which attracts people from all over the Sindh province. Sukkur is also the home for Masoom Shah Jo Munaro (Minaret of Masoom Shah) a leaning tower constructed in 18th century by historian Masoom Shah Bakhri who also ruled the city for a short period. There are some of the most respected relics of hidus in the city which include the Asthan of Kalka Devi and the Sadh Belo the asthan of Baba Bankhandi located on Sadh Belo Island in the river Indus.Sukkur is also home of the rare dolphin specie the Indus Dolphin which lives in the silty water of the Indus and found most at Sukkur.The best thing to buy is Dates which are really a good gift from here. One can also hunt for colorful handicrafts and Ajraks here.Sukkur is also the narrowest point of the lower Indus. Hence it was here English made first barrage on the Indus in 1932. (Lloyd Barrage) 7 Canals were dig to distribute water in all parts of the province which eventually made Pakistan to have the longest irrigation system of the world. With 38000 miles of irrigation canals known as Indus Food System.